Excellent Sites to Find MS Office Add ons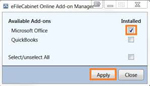 Everybody loves plugins and add ons. No matter how feature rich an application is, people always crave for more. Thanks to the availablity of an API to develop Microsoft Office plugins. Here are some of excellent sites where you can find literally hundreds of plugins for MS Outlook, Excel, Word and Powerpoint.
Office-Addins: Plenty of Outlook express and Excel plugins.
AbleBits: Another useful site for Excel addins, Outlook plugins, Word add-ins, Development components.
MAPILab: Plugins for Excel, Outlook express and Microsoft Exchange Server.
Office-Outlook: Microsoft Outlook add-ins, addons and plugins, Essential Microsoft Outlook news
PPTools: Add ons and plugins for Microsoft Powerpoint.
Excellent Sites!